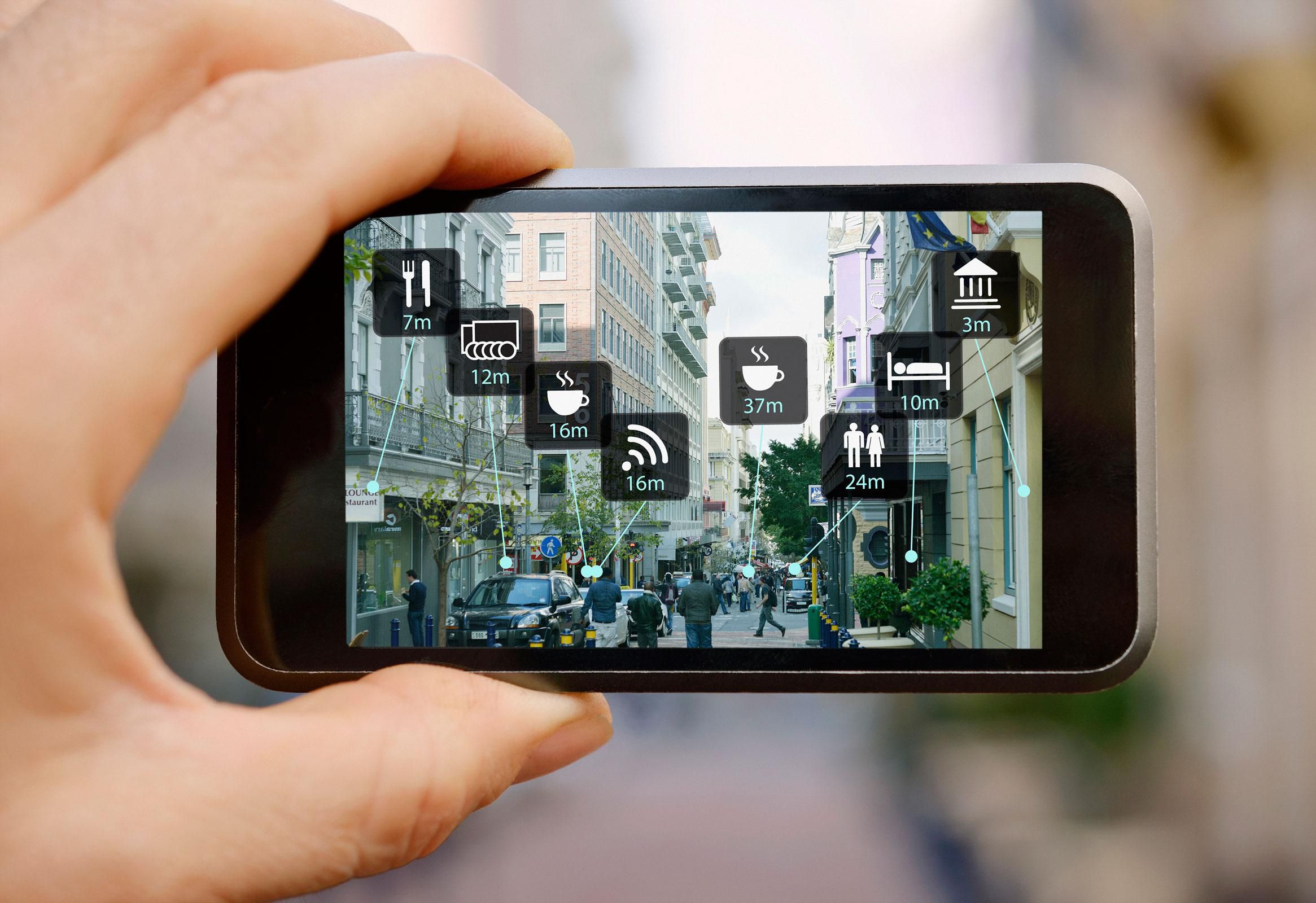 The wifi AR app is pretty cool I have to admit…
Augmented reality pushes our phones one step closer to their sci-fi inspiration. Without any special hardware, AR brings experiences that seem to come from the future right into our present reality.

Want to get a taste? Let's take a look at the best futuristic AR apps you should try on Android and iPhone.

1. Travel With AR (Android) and Portals (iOS)

At some point, we've probably all wished for a magical portal that could transport us to any place instantly. While scientists haven't quite figured out teleportation, an app called Travel With AR lets you get the gist of what it would feel like.

Travel With AR is an augmented reality app that lets you enter a virtual portal to another location. When you fire up Travel With AR, it superimposes a door in front of you. You can peek inside it to take a look or simply "walk into it" through your phone.

Once you step in, Travel With AR replaces the world around you with the location you've selected. There are a bunch of cities you can choose from, including Rome, Maldives, and Paris.

Travel With AR runs on Google's ARCore platform. Hence, to install it, your phone must have official support for Google ARCore. Because of this, the app is not available on iOS. But there is a similar alternative you can try called Portals. It has even more locations and relatively polished graphics.

Download: Travel With AR for Android (Free)
Download: Portals for iOS (Free, in-app purchases available)

2. AR Sensor (Android) and MeasureKit (iOS)

AR Sensor is one of the most jaw-dropping apps here, as it takes a mundane topic and turns into a fun activity with augmented reality. The app allows you to visualize the spatial strength of several fields in real time, such as the Wi-Fi signal and magnetic data.

So for instance, if you point your phone's camera at a router and keep walking in any direction, AR Sensor will show you how the signal's strength fluctuates throughout the area. It does so by adding little 3D spheres whose colors show how strong the connection is. You can even watch a magnetic field in action when you direct your phone's camera towards a set of magnets, like your laptop's speakers.

AR Sensor accomplishes this by drawing data from your phone's sensors and employing ARCore's positional tracker to understand your 3D coordinates. The app is only available for Android. However, on an iOS app titled MeasureKit, you can measure the force of the magnetic field around your device.

Download: AR Sensor (Free)
Download: MeasureKit ($4.99, premium version available)

3. WallaMe

WallaMe is a social platform that lets you leave digital messages on walls all across the globe. All you need to do is aim your phone's camera at a wall and scribble over the screen. You also have the option to add a picture or sticker from WallaMe's catalog.

WallaMe users will be able to find your art on the app and view it when they're at the same location. In the Discovery tab, you can browse what other people have left in your locality; through the available map, you can visit the wall to open the file.

You can use WallaMe in a private mode too. This lets you limit the app to only sharing your scribbles with friends.

Download: WallaMe for Android | iOS (Free)

4. Zome

Zome takes the concept of WallaMe to the next level. Instead of simply letting you virtually spray paint walls, Zome can drop an AR message anywhere in the open world. That message can be a piece of text, image, or a document. You can place it at any desired location.

When another Zome user is in the vicinity of your message, they will be able to see your profile picture as a floating bubble from their phone's camera. When anyone taps it, Zome will reveal the message. Similar to WallaMe, you can also publish private messages.

In addition, you can post messages that disappear. These will automatically go away once their timer expires. To discover posts, you can either launch the AR mode (where Zome will display bubbles for each nearby message), or the map view (to browse notes from all around the globe).

Download: Zome for Android | iOS (Free)

5. Inkhunter

You no longer have to endure the invasive needle to experience having a tattoo. Thanks to augmented reality, you can now virtually ink yourself. An app called Inkhunter will accurately project any tattoo design onto your body.

Once you've decided on the design, you can simply direct your phone's camera to anywhere on your body. Inkhunter will superimpose the tattoo on that spot.

Of course, you can edit the projection if it's not perfectly aligned. You can then take its picture and share on social media. Apart from being a neat party trick, Inkhunter can be used for trying out tattoo designs before having them permanently etched on you.

Download: Inkhunter for Android | iOS (Free)

6. Just a Line

Google's Just a Line app transforms your world into an art canvas by enabling you to scribble in augmented reality. You can draw over anything by simply swiping on your phone's screen and take pictures or videos of what you come up with.

Just a Line's biggest highlight is its pairing mode. You can share your virtual space with a friend's phone and sketch together on the same canvas. That allows you to, for instance, play tic-tac-toe in the air. Just a Line's multiplayer option supports both iOS and Android.

If you like the element of fun AR brings to mobile games, check out some of the many other AR games available for Android and iOS.

Download: Just a Line for Android | iOS (Free)

7. Wanna Kicks

Augmented reality can also remove the need for visiting a store to try out a new pair of shoes. On an app called Wanna Kicks, you can digitally put on shoes and check how they look on you.

You can snap pictures or videos and send them to ask a friend for their advice as well. Once Wanna Kicks superimposes a product on your feet, you can even move around and the app will make sure the projection stays put.

Wanna Kicks hosts a vast variety of shoes from well-known brands such as Adidas and Nike. At the time of writing, Wanna Kicks is only available on iOS.

Download: Wanna Kicks for iOS (Free)

8. GMoney

Another handy AR app you should install is GMoney. This app can recognize banknotes from dozens of countries and instantly convert them to a different currency. You just need to point your phone's camera at the notes and GMoney will take care of the rest.

GMoney doesn't require you to go through the bills one-by-one either. You can place them all together and the app will automatically generate the total for you. On top of that, GMoney can work without an internet connection.

Download: GMoney for iOS (Free, premium version available)

Branch Out and Discover Virtual Reality

Augmented reality has the ability to make any app on your phone more immersive. As these apps suggest, there are limitless possibilities for how AR brings us closer to living our sci-fi dreams. Whether it's virtually putting on new shoes or visualizing magnetic fields, AR has you covered.
via 8 Futuristic Augmented Reality Apps You Must See to Believe