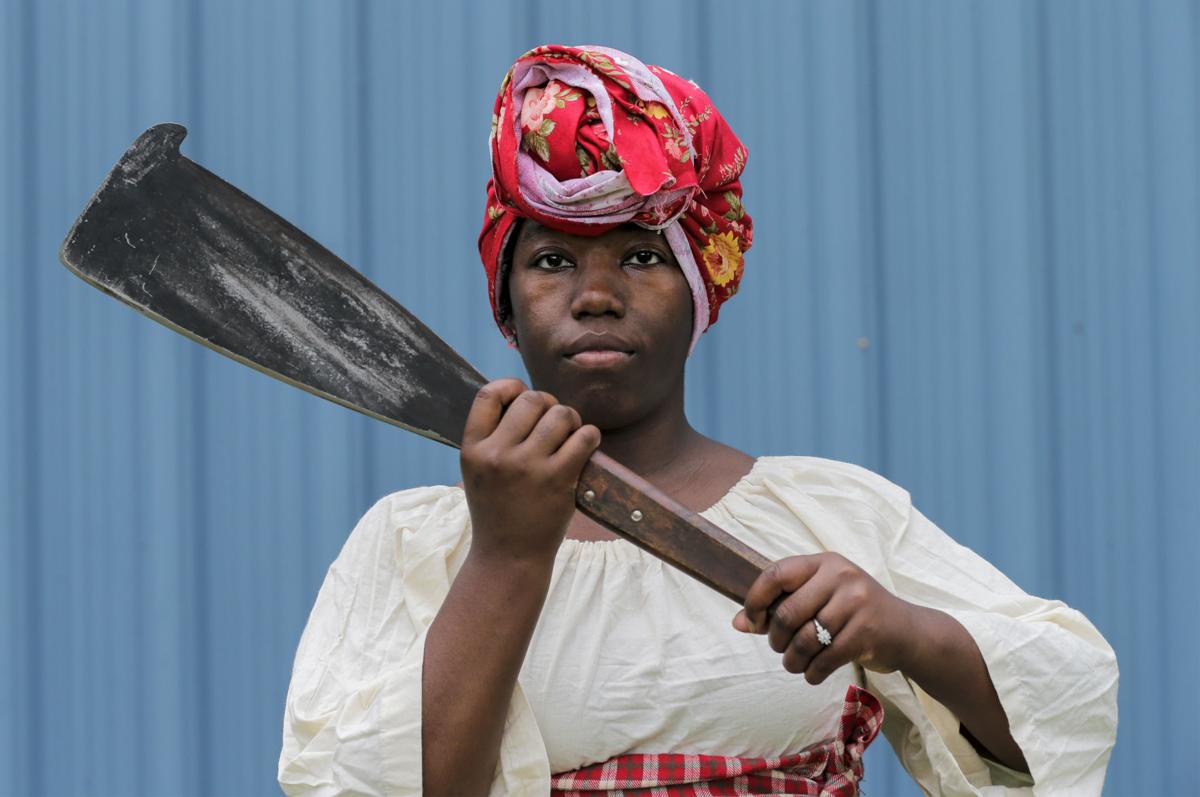 We need to see more of this… especially the babies…
The nation's largest slave revolt took place upriver from New Orleans, beginning 208 years ago along the German Coast area of St. John the Baptist Parish. But it remains unknown to many people, even in south Louisiana. An event this weekend could help change that.

On Friday and Saturday, several hundred people will re-enact the uprising, starting where it began on the east bank of the Mississippi River.

Dressed in period costumes, with some on horseback, armed with machetes, muskets and cane knives, the actors will begin the large-scale march at the Woodland Plantation, once owned by Col. Manuel Andry, who stood out for his harsh treatment, even in a world where cruelties were regularly inflicted on enslaved people.

The project is the vision of artist Dread Scott, who wanted to emphasize the importance of slave revolts and rebellion within the nation's history. He found a ready partner in Antenna.Works, which has been working to make it happen for four years, executive director Bob Snead said.

The re-enactment will be filmed by director John Akomfrah.

While the project is both artistic and theatrical, it's much more than that, Scott said.

"This is a project about freedom and emancipation," he said. "You can't understand American history unless you understand slavery. And you can't understand slavery unless you understand slave revolts."

Although the 1811 German Coast slave rebellion is known as the country's largest, accounts of it have been left out of many history books, even in Louisiana. Perhaps especially in Louisiana.

Arts administrator and seventh-generation New Orleanian Gianna Chachere, one of the first New Orleanians that Scott recruited for the project three years ago, said she never learned about the revolt in school.

"Having Louisiana history taught to me for years, I couldn't believe that I hadn't heard that the largest slave rebellion in North American history had happened just down the road from where I grew up in New Orleans," she said.

It's believed that the organizers of the rebellion plotted carefully for a long time, fueled by tales of the 1791 Haitian Revolution, where enslaved people overthrew French rule, and the French Revolution, which had started in 1789. Slaves from the Congo brought battle experience, having fought through civil wars there. The Maroons, some of whom were escaped slaves who lived in the swamps near New Orleans, joined in.

"This was a military operation, planned for years," said Scott, who changed his name from Scott Tyler to honor that of Dred Scott, an enslaved man who sued for his freedom after his owners took him into "free" territory. His petition was denied in a landmark 1857 U.S. Supreme Court decision that helped to bring on the Civil War.

Those involved in plotting the 1811 uprising had to be careful whom they spoke with, since there were big rewards for anyone who tipped off slave owners about an impending revolt.

So when Scott began recruiting people in New Orleans for the re-enactment, he barred the use of Facebook and Instagram. "Initially, his vision was no social media," Chachere said. Instead, he asked volunteers to recruit others in one-on-one conversations. They were also asked to not reveal their roles, to echo the secrecy of the original revolt's planning.

To better understand the history, Malcolm Suber, leader of the group Take 'Em Down Nola, which sought to dismantle Confederate monuments in New Orleans, has led forums in communities near where the revolt took place. The area is now dominated by petrochemical plants.

"It's all so poignant," Chachere said. "We will be marching in an area so rife with environmental racism. It's all connected."

On Jan. 8, 1811, two dozen enslaved people led by Col. Andry's own slavedriver, Charles Deslonde, entered the plantation house while Andry and his son Gilbert were sleeping. They used axes to chop Gilbert into pieces and sliced Andry three times, though he was able to run from the house and flee to the nearby Mississippi River. He rowed across and started spreading word of the rebellion.

Instead of giving chase, the group broke into Andry's storehouse and took militia uniforms and arms. They put on the uniforms and headed toward New Orleans, 41 miles away.

Chanting "freedom or death" and accompanied by drummers, the re-enactors will march that same distance on Friday and Saturday. According to oral history, the rebels relied upon two chants: "Freedom or death" and "On to New Orleans."

The plan was to overthrow the government in New Orleans and end slavery.

The rebels made it to Kenner, where they were stopped by local militiamen. Several dozen rebels were killed and their heads were mounted on poles along River Road as a warning to others.

Scott's re-enactment will end differently.

The Old U.S. Mint, then Fort Charles, was the destination for the revolutionaries.

So once the marchers reach New Orleans, they will gather at the building on Esplanade Avenue, now the New Orleans Jazz Museum, then proceed through the French Quarter to Congo Square for a celebration featuring original music by Delfeayo Marsalis and performances by Asali Ecclesiastes, Sunni Patterson, the Free Agents Brass Band, Fi Yi Yi & the Mandingo Warriors, and others.

Though the rebels were defeated in 1811, the modern-day organizers will act as if their efforts to make New Orleans an independent territory like Haiti were successful, said drummer Luther Gray.

Scott has told participants that part of the altered ending was already true: The slaves were essentially emancipated by their actions.

"He often says that once these folks decided that they were going to revolt, they weren't slaves anymore. They had liberated themselves; they were attempting to overthrow the government," Gray said.

"My question is: What's next?" Gray said. "It's one thing to do something about something that happened in the 1800s. But let's use this as a catalyst to bring us together. The march is symbolic of what we're going to do next, that's how I see it."

Interested in seeing the re-enactment? Here's how.

Friday: The marchers will travel along the levee from LaPlace to Norco, following the River Road from 10:30 a.m. to 3:30 p.m. According to St. Charles Parish Sheriff Greg Champagne, a "well-planned mock skirmish" will take place at the Bonnet Carre Spillway at roughly 4:30 p.m. The public is invited to watch from a viewing area near the U.S. Army Corps of Engineers office.

The Slave Rebellion website notes: "While the public is encouraged to attend and view from the designated area, there will be no public access or viewing permitted in the performance area itself within the spillway."

Saturday: The march will begin with a detour through New Sarpy starting at 8 a.m. According to Champagne, the marchers will proceed on the levee to West Harding Street, then walk north on West Harding to Ninth Street, then south on Vans Lane and back to the Mississippi River levee.

The group will then follow River Road from New Sarpy to near Kenner from 9:30 a.m. to 1:30 p.m. Public viewing is available at 14296 River Road in New Sarpy at 10:45 a.m. Those wishing to join the procession should arrive at 10 a.m.  

Later Saturday, the procession will travel through the French Quarter, starting at 3:30 p.m., from the Old U.S. Mint, 400 Esplanade Ave., to Congo Square in Armstrong Park. The event will conclude with a celebration and free concert.
via Nation's largest slave revolt took place upriver from New Orleans and will be re-enacted this weekend | News | nola.com